Buying and Selling Original Willys Jeep Parts

Willys & Jeep CJs, Commandos, Jeepsters, Wagons, Panels, Pickups, and FCs
Welcome to Midwest Willys, your one stop source for good, clean original take off Willys Jeep parts.
Since our used parts inventory changes frequently it would be impossible for us to list everything.
Please feel free to call, email, or even stop by and see us if you are looking for something.
Contact us at: (765) 362-2247
Harry & Jo Sheets
3708 S. 100 E.
Crawfordsville, IN 47933
email: josheets@tctc.com
We also have NOS parts on occasion, so check back with us often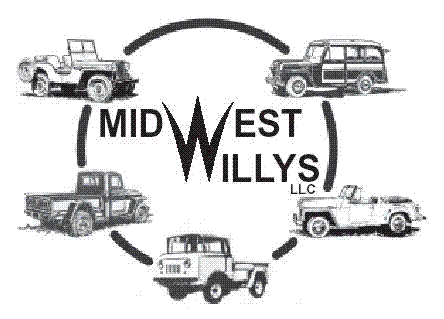 We scour the country side for good parts Jeeps so that you have the best selection for that restoration or repair. Once we find a good candidate we bring it into the shop and meticulously disassemble the unit and add the parts to one of our warehouses
Our shop and some of our warehouse space
Where it all begins...until the last nut and bolt is removed to keep your Willys Jeep going


Reproduction Manuals
Hood Emblem Medallions

Jeep Toys & Collectables


Jeep toys and collectables sell fast and inventory constantly changes


Willys Sales - Service
Neon Clocks $179








air breathers, axles, bumper brackets, chrome trim, chrome bumper corners, draw bars






heads are sent out to be cleaned and checked for cracks, engines







good selection of Spicer PTOs, rear drive PTO boxes, drum pulleys, shafts and even pintle hooks also available








gas tanks, hood ornaments, horns, light and lamps fixtures, mirrors







good selection of radiators, seats, starters, steering wheels, and rims








Parts neatly organized and ready to get your Jeep back on the road or trail.
Come visit us at a
Willys Reunion
click the image to visit the Midwest Willys Reunion site for Reunion Information






Inventory is constantly changing as we get new vehicles
Hard Tops, Cab Tops, Tubs, Beds, Bumpers, CJ Ag Weights, FC Weights, Rims, Tires and a whole lot more. . .





Proud Sponsors and Annual Vendors of the Spring and Fall Midwest Willys Reunion
We ship coast to coast and around the globe - over seas too!
Midstates Jeepster Association members meet for lunch and an "Open House" here at Midwest Willys on June 7, 2013
Thankyou all for coming!